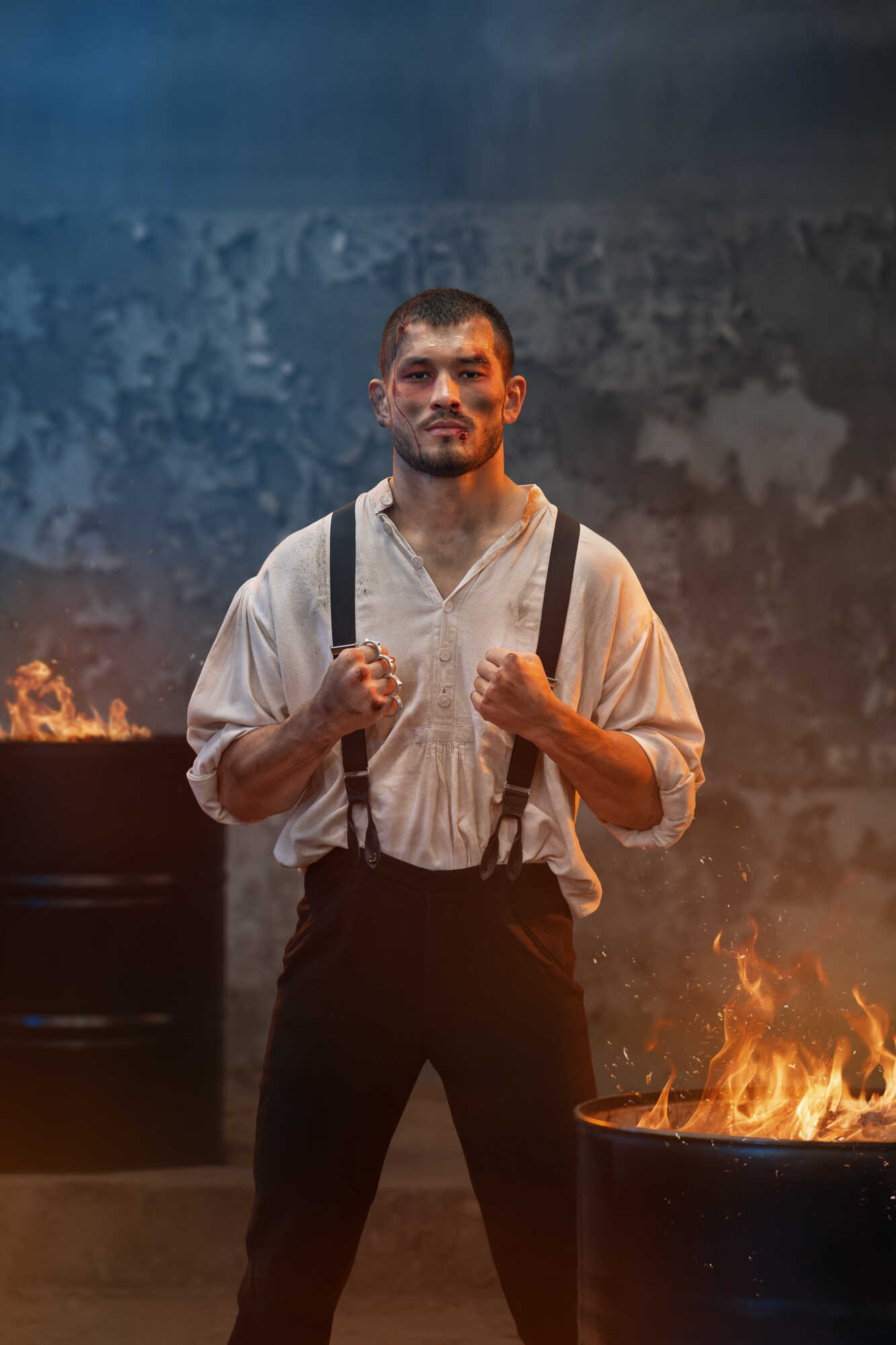 An author's project with the aim of creating, among other things, 12 photographs that go back to the past and map out one stage in the development of MMA. We would like to take the current UFC fighter - Makhmud "Mach" Muradov - to the 1920s and 1930s and show what the life of the current MMA star would look like in the previous century. The visuals show the rough time of street fighting in dusty docks and slums – man against man battles for money, for food, ... Raw training without any current conveniences, only iron, one's own body and an incredible drill. We will create a story about a man who from a street fighter becomes the star of combat sports in the ring. The story shows the fighters path, which follows his struggles for bare life, will, vision and the only goal in the end - victory. Victory over oneself, over one's own destiny.
NO ONE IS BORN A WINNER.
EVERYONE MUST WORK, SWEAT AND SWEAT
AND RAISE A WINNER OUT OF THEMSELVES.
- Makhmud "Mach" Muradov -
I FIGHT FOR SMTH TO BE LEFT AFTER ME.
I AM THE FIRST UZBEK IN THE UFC.
NO ONE WILL EVER CHANGE IT OR ERASE IT.
AND I FIGHT ALSO FOR MY FAMILY
AND THE BEST LIFE I CAN PROVIDE US.
- Makhmud "Mach" Muradov -
E-shop
Calendar MMA Legacy 2022 - Signed Edition
MMA Legacy realization team
Milan Kabelka
Main photographer | Producer
Martin Buček
Producer | Co-owner & CEO
Tomáš Polák
Producer | Co-owner & CEO
Pavla Kabelková
Production
Přemysl Adamec
Storyteller | Public Relations
Marek Lovětínský
Backstage photo | Lights
Lucka Kramperová
Backstage photo
Štěpánka Velíšek
Stylist a make-up artist
Kateřina Housková
Make-up artist
Lea Součková
Production assistant
Kejtý Müllerová
Production assistant
Marko Iglić
Document of the MMA Legacy (coming soon)
Backstage Photo
Day 2. Old factory in Prague Dejvice and quarry Velká Amerika
Day 3. T.J. Sokol Český Brod
Backstage Movie
I NEVER WANTED TO BE LIKE SOMEONE.
I WANTED TO BE MYSELF
AND ACHIEVE SOMETHING IN LIFE.
ON MY OWN.

- Makhmud "Mach" Muradov -